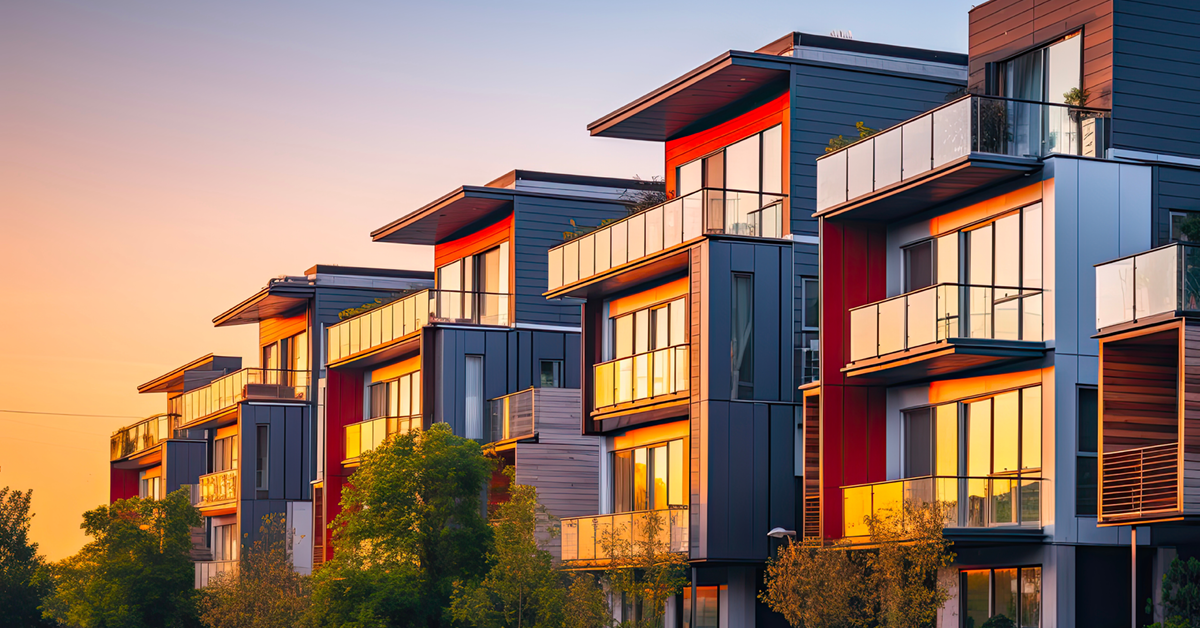 The United States has long grappled with housing affordability issues, driven in part by an inadequate housing supply. According to Freddie Mac, the nation faces a staggering 3.8 million unit shortage of housing. This problem was exacerbated by the COVID-19 pandemic, which led to a drop in housing inventory to record lows in 2020. As remote work and learning became the norm, the demand for larger, single-family homes surged, intensifying competition among buyers and renters. Supply chain challenges and labor shortages further hindered the construction of new housing units, as building permits and housing starts outpaced completions.
Now, with higher interest rates in play, building permits have reverted to 2019 levels.
However, amidst these challenges, there is a ray of hope: an uptick in planned multi-family housing construction. Multi-family housing, with its ability to increase housing density and availability, has gained prominence in both urban and suburban areas. It is seen as a more efficient and cost-effective solution compared to single-family homes, aligning well with the renewed interest in denser living arrangements closer to work and social attractions.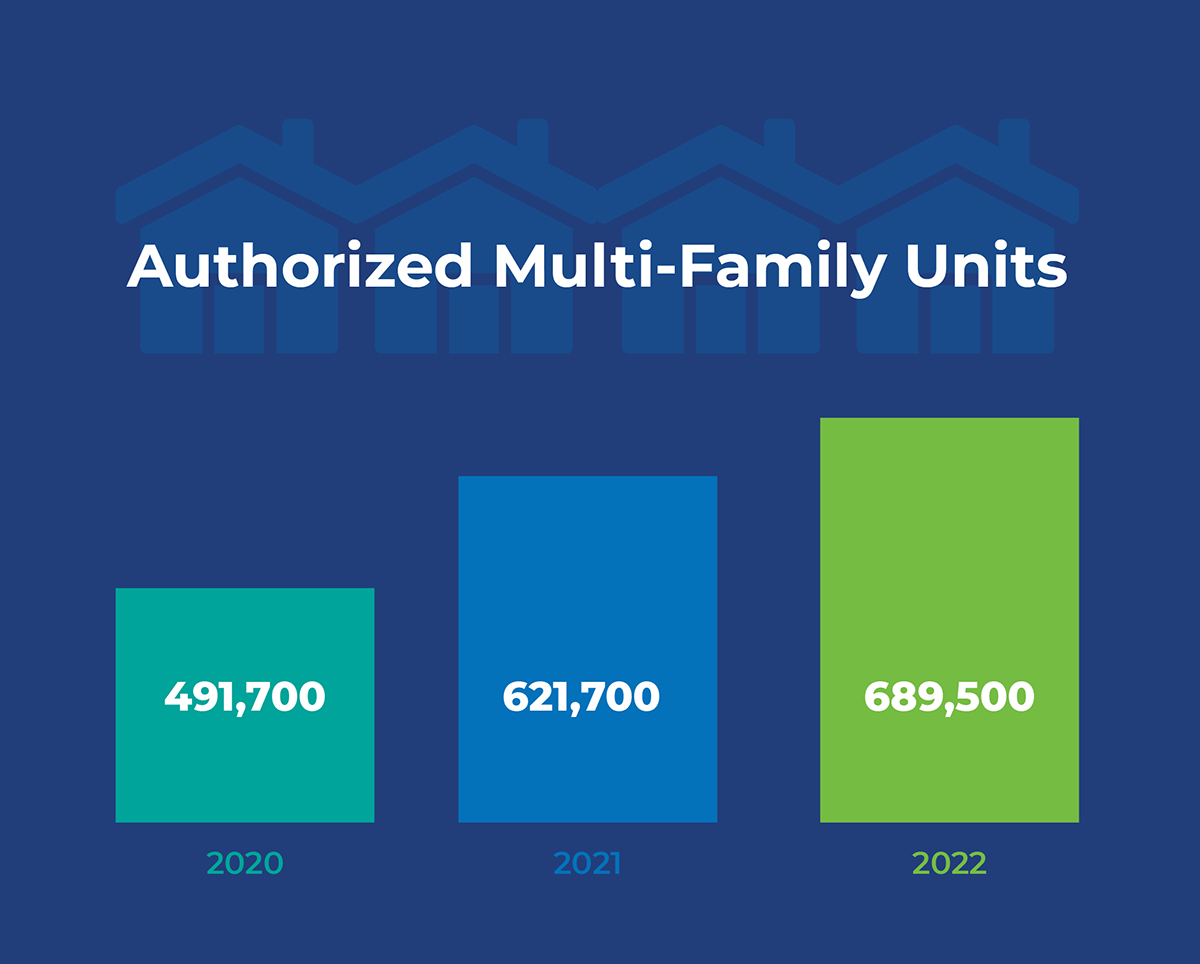 In 2021, there was a notable resurgence as the total number of authorized multi-family units jumped from 491,700 to 621,700, increasing the share of multi-family units authorized from 33.4% to 35.8%. The trend continued into 2022, with the authorization of multi-family units reaching 689,500. Simultaneously, the number of authorized single-family units experienced its first decline since 2011. This shift marked a significant milestone, with multi-family buildings accounting for 41.4% of new housing, the highest level seen since 1985.
Multi-family housing is instrumental in boosting housing availability, particularly in states with substantial urban populations. Nationally, approximately 28% of the current housing stock falls under the multi-family category, though regional variations exist. New York State leads the way with 52.5% of homes classified as multi-family, followed by Massachusetts (43.1%), Rhode Island (38.6%), Hawaii (36.4%), and New Jersey (36.0%). Conversely, less densely populated states in the South, Midwest, and Mountain West traditionally have lower concentrations of multi-family housing.
The Future: Surprising Trends
Analyzing the data for 2022 reveals intriguing trends. States already accustomed to multi-family housing, such as New York, Massachusetts, and New Jersey, witnessed significant upticks in authorizations, surpassing 60% of the total in these states, with New York leading at nearly 74%. Moreover, in nearly all states, the percentage of new housing units categorized as multi-family exceeded that of the existing housing stock.
One of the most remarkable developments is the surge in multi-family home construction in unexpected regions. Midwestern and Western states, which have typically maintained average or below-average concentrations of multi-family housing, now boast proportions of newly authorized multi-family units exceeding 50%. States like South Dakota, Washington, Minnesota, Nebraska, Colorado, and Montana have all crossed this threshold.
Local trends echo these patterns, with densely populated coastal cities and key Midwest and Western areas leading the charge in multi-family development. There are exceptions in Florida, Texas, and Georgia, but generally, southern cities report the lowest rates of new multi-family housing due to lower demand and home prices compared to other regions.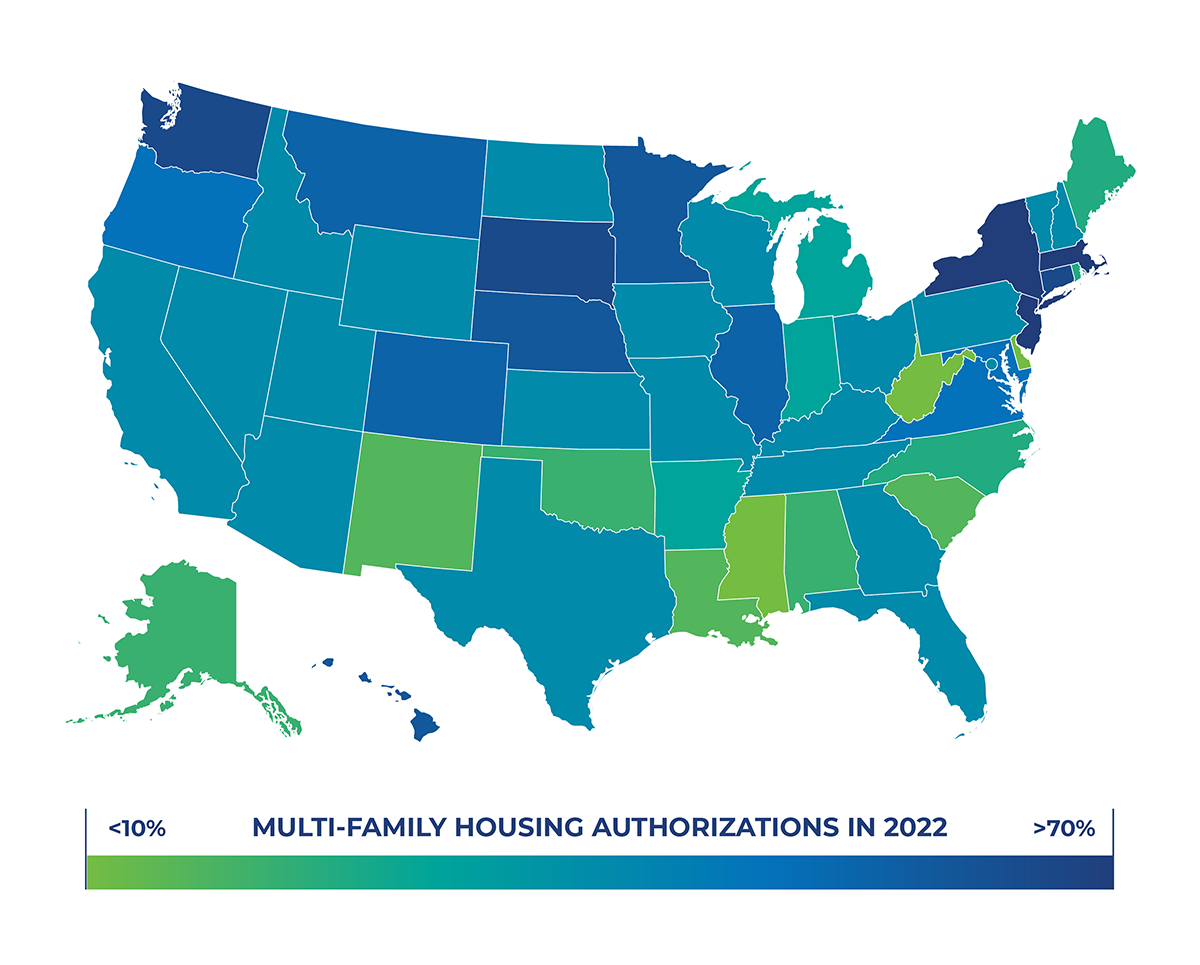 Bottom States
1

2

3

4

5

6

7

8

9

10

11

12

13

14

15
Top States
1

2

3

4

5

6

7

8

9

10

11

12

13

14

15
Construct-A-Lead: Empowering Commercial Contractors
In this evolving landscape, staying updated with construction trends and project opportunities is vital for commercial contractors. Construct-A-Lead's software platform plays a pivotal role in helping contractors identify and pursue multi-family housing projects across the United States. By providing comprehensive data and project insights, Construct-A-Lead empowers contractors to build their project pipeline, adapt to changing market dynamics, and contribute to meeting the growing demand for multi-family housing.
The surge in multi-family housing construction offers a promising solution to the ongoing housing supply crisis in the United States. As the market continues to evolve, commercial contractors can rely on tools like Construct-A-Lead to navigate the changing landscape, find new opportunities, and play a vital role in addressing the nation's housing needs. With multi-family housing on the rise, the construction industry is poised to make a meaningful impact on housing availability and affordability.

STAY UP-TO-DATE!
Subscribe to receive our newsletters with insights and tips from industry experts.
RECENT ARTICLES
John
Discover the future of luxury travel as we look at the most anticipated hotel and resort constructions in North America.
John
A Glimpse into the World of 7 New Hotel and Resort Marvels [...]
John
From billion-dollar entertainment arenas to game-changing corporate hubs, 2023 was a year of groundbreaking projects.
Share This Story, Choose Your Platform!